Silk Manager
Written by Igor Nesterov (C) 2002
Announce
NR70(NX70) version coming soon.Take an early beta (NR only) at http://www.palmoid.com/silkman/silkmannr.zip


News
2.2 (February 6, 2003)
DA support added (just look in the list after all applications)
Stack overflow protection implemented
Index
1. About Silk Manager
2. Requirements
3. SilkMan 1.x uninstallation
4. Installation
5. Uninstallation
6. Settings
7. Misc notes and troubleshooting (if something goes wrong)
8. Disclaimer
9. User reviews
10. Version History
11. Author information
12. My other Palm software
1. About Silk Manager
Silk Manager is utility for Handera 330 device. It helps you to utilize silkscreen space. Silkscreen can be used as place for useful information. Also you can use minimized silkscreen as the fastest application launcher. Just place you favoirte application icon there.
| | |
| --- | --- |
| | |
| Maximized silkscreen | Minimized silkscreen |
Features:
Useful list of information: time, date, battery load in volts and percents, free memory in kilobytes or percents. Hot information: network traffic volume
Fully utilizes your silkscreen
Info isn't bound to concrete places - you can set any info to any place.
Allow you to use Find button from minimized silkscreen
Allow you to turn Backlight on from minimized silkscreen
Allow you to launch any application from minimized silkscreen
Allow you to launch DA application from minimized silkscreen (just look in the list after all applications)
Allow you to change showed information directly from minimized silkscreen without running SilkMan.
No performance loss.
No syscall patching again! No explicit or implicit hacks!
Silkscreen updates based on alarms, one update per 10 seconds.
Settings leave persistent after reset, you should set your layout once and forget about program.
SilkMan correctly proceed time change.
SilkMan protects itself from accident deletion.
Smooth deactivation on Hotsync. You shouldn't turn all options off to upgrade program from v2.x.
2. Requirements
This program works on Handera HE330 device only. PalmOS 3.5.3 A29 highly recommended.
3. SilkMan 1.x uninstallation
Read this chapter! Careful reading save your time and your device information!
Make backup of your device.
Deactivate SilkManHack in your HackManager (HackMaster, TealMaster, X-Master).
Run SilkManager.
Push 'Turn Off' button.
Switch to 'Min Screen' if you have beta installed.
Push 'Turn Off' button.
Return to Launcher.
Delete SilkMan application.
If Launcher can't remove application, then
Hold hard 'Up' button.
Reset device with stilus, leaving 'Up' button in pushed state.
Go to Launcher.
Remove SilkMan.
Reset device again.
This sequence guarantee SilkMan uninstallation.
4. Installation
If you have SilkMan version 1.x installed, uninstall it first. Read SilkMan 1.x uninstallation chapter about it.
SilkMan 2.x can be installed without SilkMan deactivation.
Download http://www.palmoid.com/silkman/silkman.zip. Install silkman.prc to your Handera device. Run SilkMan to set your own layout.
5. Uninstallation
Launch SilkMan and press 'Turn off' button in both screens. Delete program from Launcher.
6. Settings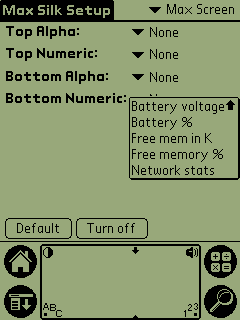 .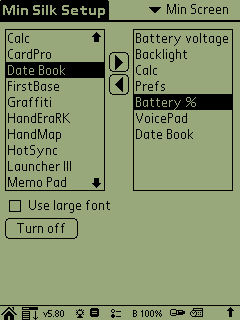 Run SilkMan. Select appropriate values from popups for each silkscreen place. Use popup trigger in top right corner to switch between max and min screens.
'Turn off' button turn all setting on page off. Turning both settings pages lead to program unprotection. 'Default' button set maximized silkscreen layout similar to well-known hack ;-). 'Use large font' toggle font size on minimized silkscreen. Left list displays all stuff that SilkMan can show and launch: info pieces, actions, applications and DA's. Right list displays minimized silkscreen layout. Use left and right buttons to move stuff to and from minimized layout. Up and down buttons help in rapid layout change.
7. Misc notes and troubleshooting (if something goes wrong)
Don't panic! If something displayed wrong (battery load after battery change for example) try to wait about 10 seconds. Info will be updated. It is made by design: if I have no way to receive notification about event, information will be updated at next alarm. Small utility should not slow device down.
SilkMan uses restart notification for initialization. If you use soft reset without extension launch (reset+up), you have no information on silkscreen. Simply launch SilkMan to resume.
Handera Keyboard application too much important to ignore it. SilkMan lowers hat and disapears. In worst case it appears in 10 seconds after keyboard closing.
In rare cases Launcher can't remove SilkMan. Run SilkMan second time and exit. Try to delete it again.
While SilkMan utility is active, silkscreen updates are stopped. Updates resumed on exit from utility.
8. Disclaimer
SilkMan provided as is, and not guaranteed to be free of bugs. The author assumes no liability for any problems resulting from the use of this product. If you find a bug, please report about it to support@palmoid.com, along with the following info:
PalmOS version.
Active hacks list.
Application, where crash happens.
This application is free. If you want to reward me for SilkMan you can help me with
Icon set for SilkMan
Manual write-proofing
9. User reviews
"I was about to give up on my HE330 for the new Sony OS5 model or one of the upcomming Samsung/Kyocera models, but after getting SilkMan and AfterBurner (running at 45mhz), I feel like a have a new machine again!"
"Fantastic. More control than SilkClockHack, and without the resource sapping of SilkClockHack. Developer is responsive, and sharp as a tack."
"This is a terrific program that adds functionality that Handera should have included on the 330 to begin with. I've been using it without incident for several day."
10. Version History
2.2 (February 6, 2003)

DA support added (just look in the list after all applications)
Stack overflow protection implemented

2.1 (November 5, 2002)

Up/Down buttons for minscreen layout added
Information rectangles are clickable now

2.0 (September 26, 2002)

Complete new version! Full control over minimized silkscreen layout. Now you can launch favorite applications from silkscreen

1.2 (September 10, 2002)

Restore after Handera Keyboard bug fix
Date and time format takes from system preferences

1.1 (September 8, 2002)
1.0 (September 5, 2002)
11. Author information
Feel free to send bugreports and suggestions to me. Web page: http://www.palmoid.com/silkman
Email: support@palmoid.com
12. My other Palm software